Dr Splink are from Somerset and Devon. Playing an original blend of ska, reggae,funk and punk. They have been compared with The Blockheads, Madness and The Stranglers. They are musicians  who specialise in having lots of fun, getting crowds smiling, laughing and dancing!
Those cheeky Yorkshire flatcap banjo folk rockers Shanghai Treason have gone from strength to strength since launching in late 2019. It's a rebellious, rawkus, festival friendly, high octane, knees up, feel good, party atmosphere kind of performance, leaving audiences in big tops, venues and fields alike with smiles all round reaching for a fresh round of pints, or two, or more likely three, it's just that kind of music.
They've supported and toured with the likes of Ferocious Dog, Stiff Little Fingers, Buzzcocks, Skinny Lister, Hayseed Dixie, The Undertones, From The Jam, Mad Dog Mcrea, The Rumjacks, Terrorvision & many more.
The Sheffield based band's latest album 'Brave Willing & Strong' landed in September 2023 and received much critical acclaim. All aboard the good ship treason… docking at a port near you soon!
"Leave you feeling happy but exhausted from hopping up and down on your feet" V13 "An accomplished and considered debut" Vive Le Rock Magazine
Them sexy punks from way down west are back! SKA/Punk greatness! 
Are you one of those who never had much time for that there London? Simon Coverdale's brilliant tune speaks to all those that have 'struggled to love London' and instead have an affection for the rural life. 
Brilliant folk/blues exponent, Rob Spence. Well crafted tunes beautifully delivered. 
The Adders and are based in E. Devon. Their music is mostly original alt/rock, folk, country and more and our line-up consists of acoustic guitar/vocals, lead guitar, bass guitar and cajon.
Fresh Arms' – an indie rock band coming out of Clapham. After a serendipitous meeting in the dark depths of an unruly house party they have been smashing out early-2000 indie rock bangers together across Brixton, Earlsfield and Putney ever since.
Keith Smart speaks to Jason Barnard about the story behind the new reissue of St Johns Wood Affair's debut album. Keith's passion for music, from his time with M.I.5 to his custodianship of iconic guitars, bring a new perspective to the musical landscape. Join us as we dive into the psychedelic soundscape of the St Johns Wood Affair and Keith Smart.
Can you tell us about the new expanded edition of St Johns Wood Affair's LP and what we can expect from this version?
Hi Jason, we recorded the original ST JOHNS WOOD AFFAIR album and released it ourselves in 2016. It received some good reviews. I was posting copies all over the world, plus selling a lot at gigs. I was contacted last year by Roger of THINK LIKE A KEY MUSIC label, he was reissuing a Nirvana album, called ORANGE AND BLUE. I have been playing with Nirvana since 1980 (the psychedelic group, not the grunge group). I have a lot of material in my archives, photos, videos and rough mixes of various groups I have been involved with. I supplied Roger with outtakes and photos of the album sessions from 1995. We got chatting, I sent him our album. I was so impressed by the remastering of the Nirvana album, I wondered if he could do the same with ours, plus I liked the label and the roster of artists and bands on there, a great eclectic mix.
For the ST JOHNS WOOD AFFAIR reissue, Roger put together some interesting demos recorded at my home studio, plus two cover version songs that were never released before. The whole package sounds so fresh now, the remastering has brought it to life. I get e mails from people who have both albums, telling me how much they enjoy the recording, plus the demos too. Roger updated the artwork to include a booklet of photographs taken recording the album, and some gigs, plus the lyrics! All in all a really impressive package. A week after the albums release, Roger told me it was the label's best seller. It had sold out in a week, and more copies of the album were produced to cover the interest.
Could you share some insights into the unreleased tracks and why you decided to include them?
I always loved SKY SAXON and THE SEEDS, we originally came together in the studio to record a cover of WHERE IS THE ENTRANCEWAY TO PLAY? I had been approached by a record company in America and asked if I would like to cover a SEEDS song for a SKY SAXON tribute album. The recording turned out really well, and the musicians I got together enjoyed the sessions. I also wrote a song about Sky Saxon called SKY FOREVER. We recorded that too. The SKY tribute album has not been release yet. We have been waiting since 2010! Hawkwind, Iggy Pop, Davy Jones of the Monkees and the Bangles have all recorded tracks for the album. I had a different mix of WHERE IS THE ENTRANCEWAY TO PLAY in my archive, so thought it would be nice to let people hear it, especially as it was the catalyst in bringing ST JOHNS WOOD AFFAIR together. The Nirvana song ST JOHNS WOOD AFFAIR was a cover recorded for an album a released in 2020 of Nirvana cover versions called YESTERDAY'S SUNSHINE. It's quite a whacky track, backwards guitars etc. Again another mix I had in the archive. I thought it would be cool to have that as a bonus track on the album.
"Sky Forever" is described as an ode to Sky Saxon of The Seeds. Could you share the inspiration behind this song and its significance to the album?
I have quite a few Seeds albums, and Sky Saxon albums. After recording WHERE IS THE ENTRANCEWAY TO PLAY? I sat down and wrote the song for Sky. A few unusual things happened during recording the demo, the phone rang. It was Patrick Campbell Lyons of Nirvana. It was in time with the music, so I kept it in. When I rerecorded the song in a studio, I sampled the phone call and put it in the song. Similarly, I was playing the keyboard part in my home studio, when I fell on the keyboard and landed on a strange sounding chord, I kept that in too. The lyrics are about some of the Seeds songs, if you are a fan of the group, you can pick them up. I sent a copy to Sky's last wife, Sabrina, she really liked it. We always play it at our gigs, when I mention Sky, he gets a cheer!
So how did the members of St Johns Wood Affair come together, and how did the band's shared love for psychedelic music influence your and the group's musical journey?
As I mentioned before. I was approached to record a Seeds song. I didn't have a group at the time, so I drafted in a musical friend, Anne Whittet on keyboards. I have played in a group with her before. She brought along Carlton Jarvis to drum, another friend John White played bass and my wife Francine (who records with me at my home studio) supplied backing vocals. We all had such a gas, we thought it cannot end here. I wrote more songs that we recorded, and we went out gigging them. The response was very good. Since I was at school, I have had a love of music, travelling back in time, discovering Beatles, Early Pink Floyd, early Who, Small Faces, Kinks, early Bowie, then when I was about 13 years old I started writing and recording my songs. I used two cassette tape recorder to do this in a very primitive way. The results were quite good, I still have them in the archive.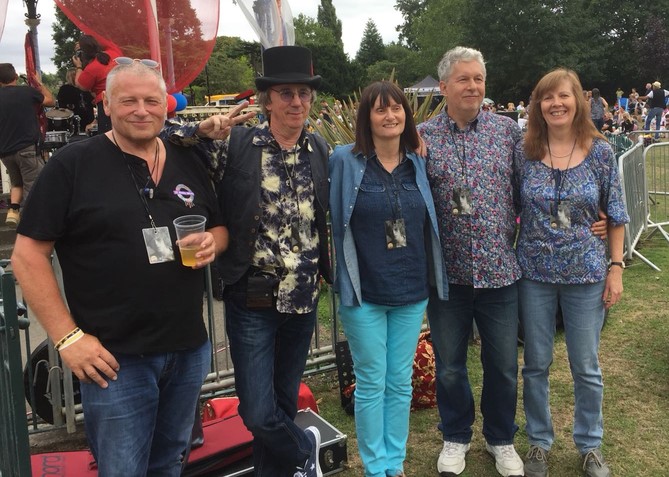 Could you introduce the members of St Johns Wood Affair and tell us about their roles within the band?
The current members of ST JOHNS WOOD AFFAIR are Keith Smart – Lead vocals/guitar, Anne Whittet – Keyboards, Carlton Jarvis – Drums, Francine Smart – Backing vocals and Adrian Hillier – Bass/backing vocals. That line up works really well. We had a few bass players before this line up, including John White, Pat Martin (from Unicorn, a band produced by Dave Gilmour).
Patrick Campbell-Lyons gave the band its name. Can you elaborate on how that conversation led to the name St Johns Wood Affair and its connection to the music?
Patrick was at our home in Surrey, we were running through songs for a gig Nirvana were playing in Spain at Felipop (Francine and Anne both played with us at that gig). I mentioned I was trying to think of a name. He said why not ST JOHNS WOOD AFFAIR? I thought, well at least there would not be another band with that name. People have their own ideas of why the band is called that, I think that is good. Patrick is a dear friend I have known since the 80s, we speak the same musical language.
You've had a diverse musical career, from M.I.5 to Eye to Eye. How has your past experience shaped your approach to songwriting and performing with St Johns Wood Affair?
ST JOHNS WOOD AFFAIR is really my ideal group. In previous groups I have always had to compromise. I do not do that now, I write the songs I want and I know SJWA can interpret my ideas. We play mainly our original songs, we do play a few covers, SEE EMILY PLAY by Pink Floyd (Anne replicates the amazing keyboard part that Richard Wright played), Lucy in the Sky with diamonds by the Beatles (Adrian has nailed Macca's beautiful bass part), Moonage Daydream by Bowie (imagine playing that in front of Bowie's drummer Woody Woodmansey and bassist/producer Tony Visconti – we did that at a Bowie festival in London). As well as 60s groups, I was brought up on Sex Pistols (I never imagined then, I would play with Glen Matlock), Stooges, Oasis, they are all in my DNA.